Program Costs
Please see age definitions below:
12U (traditionally 6th grade) $1900.00
13U (traditionally 7th grade): $1900.00
14U (traditionally 8th grade): $2050.00
2019-2020 USAV Age Definitions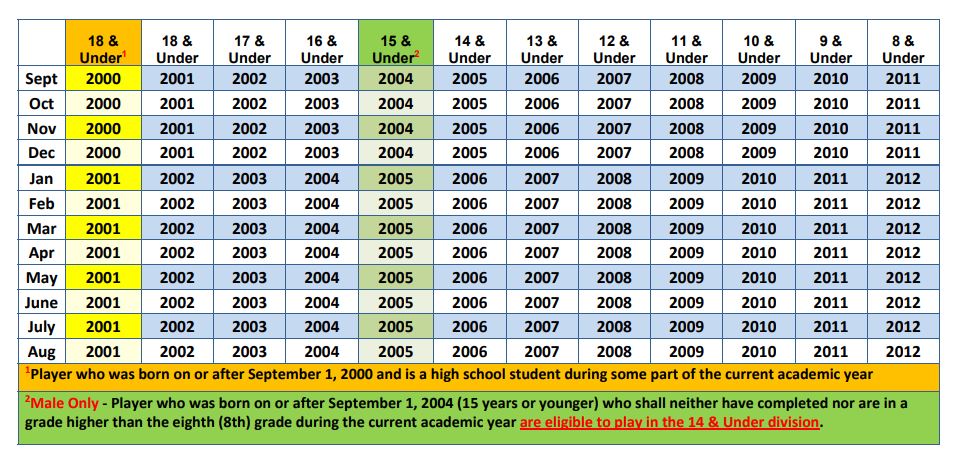 What does the fee cover?
2 weekly practices (Monday & Wednesday 5:00-7:00)
3 practice t-shirts
2 uniforms
knee pads
socks
warm up top & bottom
bag
tournament costs (including 1 travel trip for 14U - hotel for athlete covered)
Payment Schedule

| | | | | |
| --- | --- | --- | --- | --- |
| | Due 48 Hrs After Tryouts | Due 11/8 | Due 12/6 | Due 1/3 |
| 12/13U | $500 | $500 | $500 | $400 |
| 14U | $500 | $550 | $500 | $500 |
When are practices?
Mondays & Wednesdays 5:00-7:00
We will have special competition days. Schedule to be released after high school tryouts are completed.
How long is the season?
The first practice is 10/16. The last event will be either the last week in April or first week of May - depending on tournament schedule.
How many tournaments?
2 tournaments a month starting in December (typically only 1 tournament in December)
Which tournaments do you participate in?
All teams will participate in league play either Windy City Power League (WCPL) or Chicago Volleyball League (CVL). We will also participate in several one-day tournaments throughout the Chicagoland area. The 14U teams will participate in 1 travel trip (Wisconsin Dells).
How long are tournaments?

All of our tournaments are on the weekends. We travel from Mokena to Kenosha to Rockford to Aurora and several places in between. Tournaments can range from 1/2 day (typically power league dates are 1/2 day). Athletes can expect to arrive around 7:00 AM and compete until 2:00 PM if in the AM wave or arrive at 2:00 PM and compete until 9:00 PM if in PM wave. Single day tournaments are usually pool play and then bracket play. If the team is doing well, then the team will keep playing. Again, athletes can expect to arrive around 7:00 AM and compete until 4:00 or 5:00 PM if their team is competing for the championship. 
We typically get tournament schedules the week of the tournament. Coaches will distribute as soon as schedule are available.