2020 hasn't been what any of us expected or could have predicted, and you know what? THAT'S OK!
People and companies are going to have decisions to make. We can either sit around and complain about how frustrating it is that things are different...
OR 
We can roll with the punches and adapt to our current situation. 
Humans, Americans, and especially ATHLETES have had to be flexible to find outside of the box solutions to be successful. Those who decide to sit and complain will be left in the dust while those willing to stay positive and get creative will thrive!
Think about us as volleyball players. We all have our strengths. Maybe your team has a really strong libero, and the team may rely on him or her to spark the offense with big defensive plays or the rest of the defense relies on him or her to cover a lot of ground. BUT what if you play a team with Outside Hitters that can only hit line? This means the ball will most likely not find your Libero in left back. So what can we do as a team to get the ball to our best defender? Hopefully, you're making adjustments and not just letting your Right & Middle Back continue to get pelted by strong swings. 
We are planning on making an adjustment. In the situation above, maybe we move the block to cover the line or we move our libero to middle or right back. No matter what - WE GET CREATIVE!
Since the pandemic hit, we have been doing what we can to get our athletes reps. Whether it's offering every athlete private lessons, or moving outside, we've been doing what we can within our restrictions. Prior to the pandemic there were times we would have up to 80 athletes in the gym at a time. Now, we will be limiting the gym occupancy to 30 athletes. We will have 10 per court and, for the most part, there will be 5 athletes per side of the court. PLENTY of space to maintain social distancing.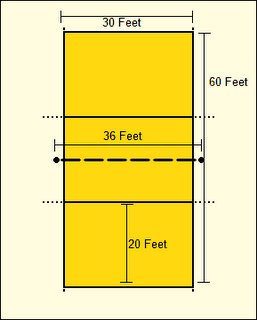 We want our athletes to achieve whatever goal they set for themselves. In the past, we have worked with the athletes after their middle and high school seasons and have been able to help them grow in order to make their team again the next season (if that was their goal). We sit down with each athlete and outline what their goals are for the season, then we revisit and adjust the goals midway through the season. This season we have the pleasure of working with these athletes BEFORE their school seasons. We can help each athlete make that final push to make their teams. With that in mind, we have been getting creative with programming. We will be adding speed, agility, and jump training into our warm ups, and most importantly, we are adding small group training to maximize development. During our 2 practices per week, we are going to have 1 day focused on skill development, and the other focused on game-like competitive situations to practice what we worked on the practice before. We really think this formula will help get the most out of each athlete in a short amount of time. The only unfortunate part is that we will not be able to show off these advanced skills in a tournament setting. We are working on ways to live stream competitions so parents are able to see how hard their athletes are working. So much of what we are trying to do is fluid, but the good thing is we are TRYING. Rest assured, we are not sitting back and mourning a lost season. We are moving forward, rolling with the punches, and asking how can we get better to make our athletes better. GO EDGE!